Cycling path 2 : Abbeys tour - 10.6 mi
Cultural , Touring cyclist , Natural
at Échillais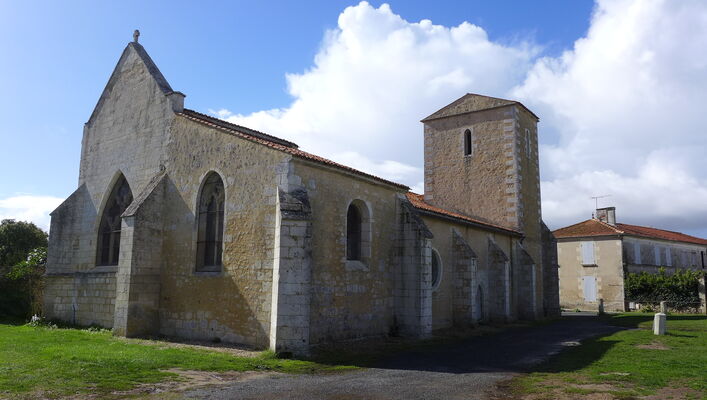 Points of interest
1
Les JARDINS DE SAINT-JACQUES
Base nautique et aire de loisirs.
Dépendante de la lointaine Abbaye Bénédictine de la Chaise Dieu en Auvergne, l'Abbaye romane de Trizay a été fondée vers la fin du XIe siècle. Pendant de longs siècles les moines y menèrent une existence paisible, défrichant la région et accueillant les pèlerins en route pour St Jacques de Compostelle. Elle fut occupée jusqu'à nos jours depuis la Révolution par une exploitation agricole, mais la municipalité a su faire revivre cet ensemble monumental en ruine, devenu propriété de la Commune en 1989. Source - site internet de la commune de Trizay
Le site de Montierneuf regroupe les vestiges d'un ancien prieuré. On remarquera tout particulièrement une fuie (pigeonnier) dont l'intérieur contient 2959 boulins pouvant chacun accueillir un couple de pigeon.
4
La Limise et Pierre Loti
Cette demeure est typiquement charentaise. Autrefois propriété d'Eugènie Duplais, une amie
intime de Nadine VIAUD, mère de Julien VIAUD alias Pierre LOTI. La fille de Mme Duplais
était plus âgée que Julien d'une huitaine d'année et était pour lui une autre grande soeur.
Ils s'aimaient beaucoup et ont passé des journées entières à jouer dans la propriété.
Pierre Loti en parle comme d'un paradis sur terre.
5
Église Notre-Dame d'Echillais
92 meters of difference in height

Start altitude :

3 m

End altitude :

3 m

Maximum altitude :

16 m

Minimum altitude :

1 m

Total positive elevation :

92 m

Total negative elevation :

-92 m

Max positive elevation :

12 m

Min positive elevation :

-9 m
Leave a review about Cycling Path 2 : Abbeys Tour - 10.6 Mi :
Bad

Average

Good

Very good

Excellent
There is no review about Cycling Path 2 : Abbeys Tour - 10.6 Mi, be the first to leave one !