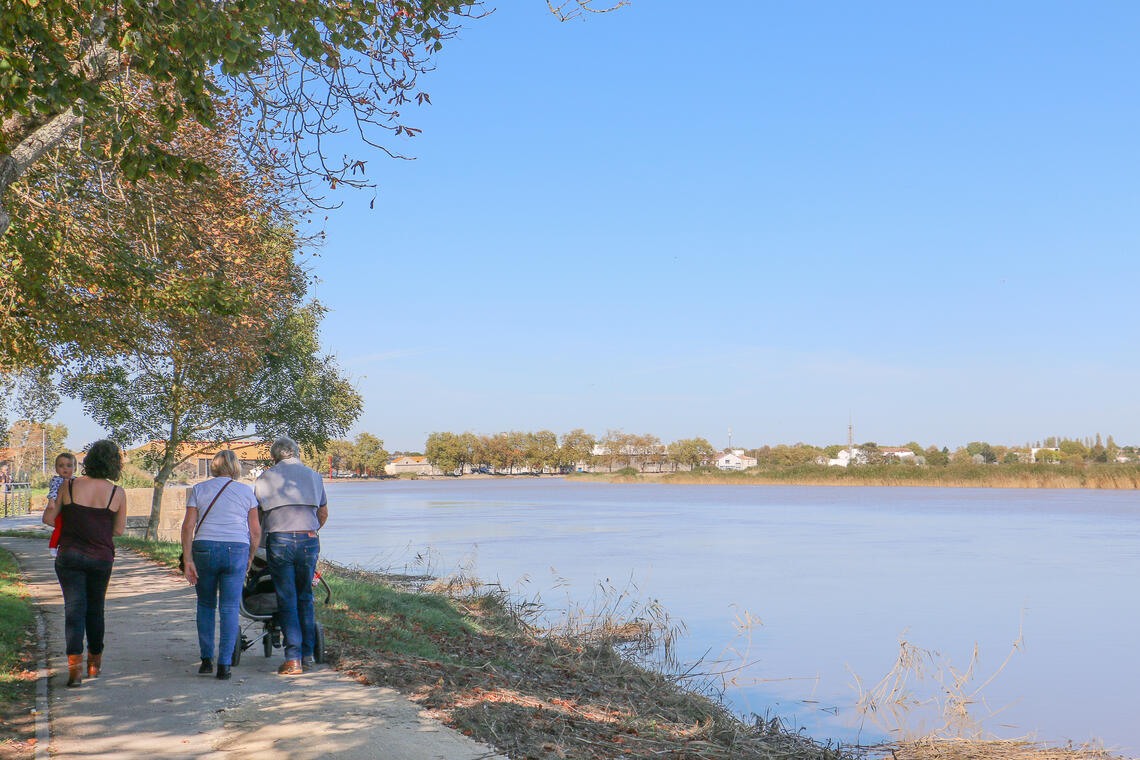 Cycling path 12 : Le Chemin de Charente 10 mi
Explore Rochefort by bike via the Chemin de Charente. A new town of the 17th century, Rochefort owes its development to the creation of the Arsenal desired by Louis XIV as the "largest and most beautiful arsenal in the Kingdom". The city will be dedicated to shipbuilding for more than two and a half centuries. (No specific marking for this circuit).
Points of interest
A former 18th century hotel, only the facades have been preserved. You can see the Relief Plan of Rochefort made by the engineer Touboulic.
2
The Museum of Ancient Trade
Discover the charm of small shops in the early 20th century. An impressive collection of everyday objects that have disappeared.
In the heart of Colbert's Arsenal, the classic beauty of a royal factory built in 1666 on the orders of Louis XIV. For two centuries, the Corderie Royale manufactured ropes for the great sailing ships of the Royal Navy.
The Accro-mâts, an exceptional climbing area!
In this adventure park, go from mast to mast, climb the ropes and dominate the Charente at a height of 30 m!
In 1780, La Fayette embarked on the Hermione, a frigate built in the Rochefort arsenal. He left to help the American insurgents. In 1997, a new adventure was launched in Rochefort, the Hermione was put back into construction in the heart of the former Arsenal Maritime on the very site where she was born...

The Hermione is currently in the port of Bayonne (Anglet) for repairs.
6
National Maritime Museum
Enter the Hôtel de Cheusses, the first residence of Rochefort's naval commanders, which today houses the collections of the Musée National de la Marine. During your visit, you will discover the extraordinary history of the royal arsenal of Louis XIV and Colbert from the 17th to the 20th century.
7
The Transbordeur Bridge
Built in 1900 by Ferdinand Arnodin, it is the last Transbordeur bridge in France. Overlooking the Charente by 50 m, it facilitated the crossing of the river without hindering river navigation between the arsenal, the port and the estuary. Today there are eight ferry bridges left in the world.
The plant is unique in Europe, located on the banks of the river Charente, and is an example on an international scale. It enables the wastewater of the city of Rochefort to be treated in an economical and ecological way. This site is also a remarkable place for water birds.
9
View of Soubise and the old Soubise slipway
First crossing of the Charente.
10
The Navy Hospital and the Naval Medical School
Founded in 1722 to train surgeons on board warships, it bears witness in an original and unexpected way to a dense history where science, technology, politics and society are interwoven.
68 meters of difference in height

Start altitude :

9 m

End altitude :

8 m

Maximum altitude :

17 m

Minimum altitude :

1 m

Total positive elevation :

68 m

Total negative elevation :

-69 m

Max positive elevation :

8 m

Min positive elevation :

-5 m