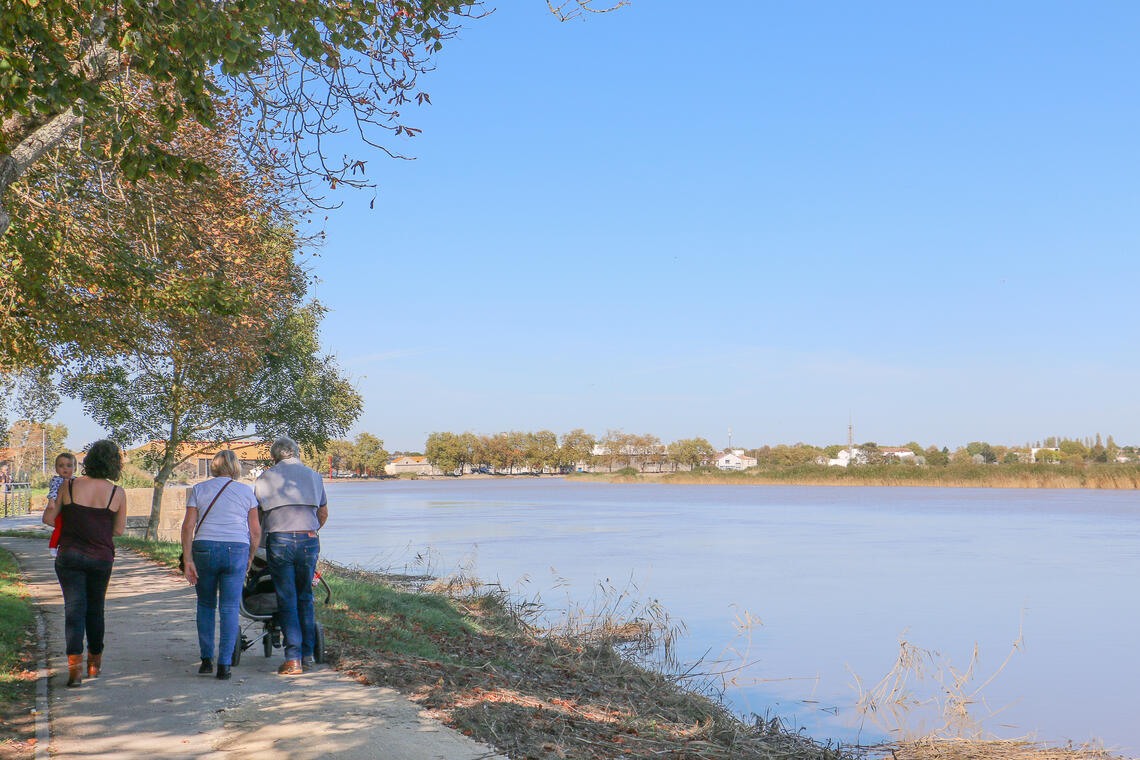 Cycling path 12 : Le Chemin de Charente 10 mi
Discovery of Rochefort by bike by the Chemin de Charente.

Planned city of the 17th century, Rochefort owes its development to the creation of the Naval Dockyard wanted by Louis XIV as the "most exceptionnal dockyard of the Kingdom". The town will be dedicated to shipbuilding for more than two and a half centuries. (No specific markup for this path).
Points of interest
1
Musée Hèbre de Saint-Clément
Ancien hôtel du XVIIIe siècle, seules les façades ont été conservées. Vous pouvez y voir le Plan Relief de Rochefort réalisé par l'ingénieur Touboulic.
Au cœur de l'Arsenal de Colbert, la beauté classique d'une manufacture royale mise en chantier en 1666 sur ordre de Louis XIV. Pendant deux siècles, la Corderie Royale fabrique les cordages des grands voiliers de la Marine Royale.
3
Le Chantier de reconstruction de l'Hermione
En 1780, La Fayette embarque à bord de l'Hermione, une frégate construite dans l'arsenal de Rochefort. Il part prêter main forte aux insurgés américains. En 1997, une nouvelle aventure est lancée à Rochefort, l'Hermione est remise en chantier au cœur de l'ancien Arsenal Maritime sur le site même où elle était née.
4
Les Fosses de la Gardette
Le terme fourrier remonterait à 1534. Il s'agit alors du chargé du fourrage et du logement de la troupe, véritable homme de confiance du capitaine de compagnie. C'est donc un terme terrien qui fera son entrée dans la marine en 1758 par le biais des corps d'infanterie et d'artillerie de la Marine sous Choiseul qui cumule alors les fonctions de ministre de la marine et de la Guerre, longtemps séparées. Après plusieurs éclipses, le terme de fourrier réapparaît définitivement en 1832. Il est alors chargé des «écritures» et de la comptabilité à bord des bateaux.

Les fourriers de la Marine ont conservé comme insigne distinctif un large galon d'or, identique à celui que portaient les fourriers de l'Empire.
Construit en 1900 par Ferdinand Arnodin, il est le dernier Pont Transbordeur de France. Dominant la Charente de 50 m, il a facilité le franchissement du fleuve sans gêner la navigation fluviale entre l'arsenal, le port et l'estuaire. Il reste aujourd'hui huit ponts transbordeurs dans le monde.
Site unique en Europe situé en bordure du fleuve Charente, la station est un exemple à l'échelon international. Elle permet de traiter de façon économique et écologique les eaux usées de la ville de Rochefort. Ce site est également un lieu remarquable pour l'accueil des oiseaux d'eau.
8
Vue sur Soubise et l'ancienne cale de Soubise
Premier franchissement de la Charente.
Pêche à la Pibale (alvins d'anguille) et plaisance.
10
L'hôpital de la Marine et l'ancienne école de Médecine Navale
Fondée en 1722 pour former les chirurgiens embarqués à bord des navires de guerre, elle témoigne de façon originale et inattendue d'une histoire dense où se mêlent science, technique, politique et société.
11
Musée Nationale de la Marine
68 meters of difference in height

Start altitude :

9 m

End altitude :

8 m

Maximum altitude :

17 m

Minimum altitude :

1 m

Total positive elevation :

68 m

Total negative elevation :

-69 m

Max positive elevation :

8 m

Min positive elevation :

-5 m