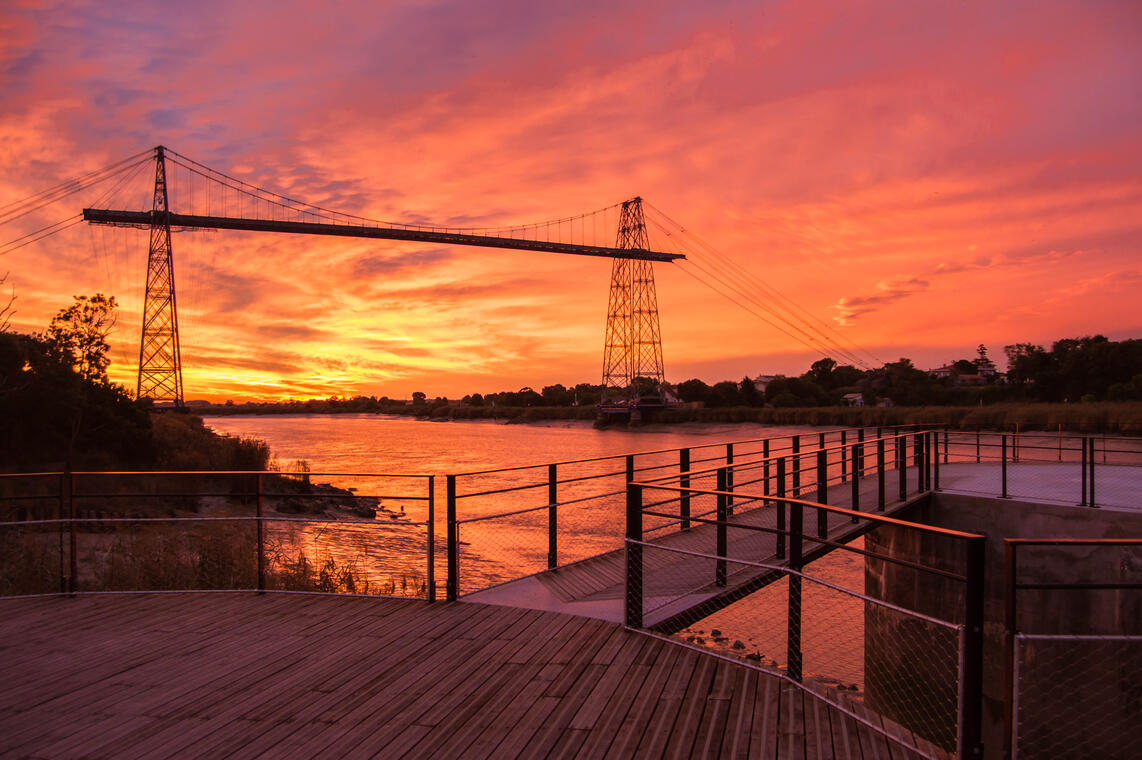 Cycling path 8 : Aquaducts tour - 11.2 mi
Forming, at the time of the Arsenal, the hinterland of Rochefort, this territory supplied the Royal city with food and drinking water (aqueducts, water tower, etc.). A tradition of market gardening and animal husbandry has shaped these landscapes.
Points of interest
1
The docks of Tonnay-Charente
In the 15th century, cargoes of wine and cognac were carried down the river on barges to be unloaded at the quays of Tonnay-Charente. From there, they were transported to the New World. The sailors got their water from wells located under the houses.
2
The suspension bridge of Tonnay-Charente
This bridge, inaugurated in 1842 to the design of Louis Dor, is one of the oldest suspension bridges in Europe at 620m long. The deck, 204m long and 5m wide, is supported by 51 ogival arches and overhangs the Charente at 23m above the highest water level. After several years of service, the bridge was collapsing. On 21 August 1883, sand was piled on the deck and before reaching the test threshold, the deck failed.
It was not until 10 March 1885 that the bridge was reopened to traffic after being rebuilt by the engineer Arnodin.
The bridge is accessible on foot or by bicycle. Exceptional view of the marshes and the quays of Tonnay-Charente.
3
The washhouse of the Commanderie de Fontsèche
The spring of the Fontsèche washhouse bears the name of a hospitable commandery founded in 1229.
Its commander had high, medium and low justice rights over this suburb and derived a lot of income from the land, vines, a wine press and an oven.
The latter was uncovered during an archaeological excavation in 2005. The Fontsèche washhouse is already mentioned in a text from 1675. Improvements were made in 1843 and the washhouse was covered in 1881.
4
The aqueduct and water tower of La Coudre
These two 18th century structures were used to transport water from the springs of Tonnay-Charente to the Rochefort Arsenal.
125 meters of difference in height

Start altitude :

3 m

End altitude :

3 m

Maximum altitude :

29 m

Minimum altitude :

1 m

Total positive elevation :

125 m

Total negative elevation :

-125 m

Max positive elevation :

19 m

Min positive elevation :

-17 m