Cycling path 6 : At the heart of the islands - 19.3 mi
Cultural , Touring cyclist , Natural
at Breuil-Magné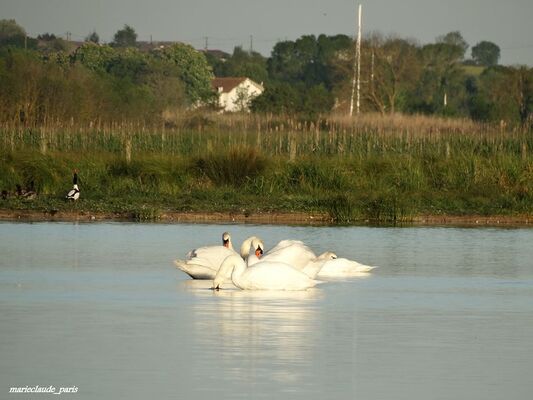 With this tour, discover a preserved fauna and flora specific to the the Atlantic marshes.

From the "Grand Bois"(Breuil-Magné), the carpenters of the Naval Dockyard of Rochefort extracted the raw material of the vessels of the Royal Navy. Today less forested, the town is characterized by highlands and islands of land (The Lance, The Liron ...), croplands and grazing marshes. This area hosts preserved a flora and fauna specific to the Atlantic marshes.

Difference in height

117 m

Documentation

GPX / KML files allow you to export the trail of your hike to your GPS (or other navigation tool)
Points of interest
1
Le Pôle Nature de la Cabane de Moins
Au coeur du marais, au pied de l'île du Liron, cette réserve naturelle accueille de très
nombreuses espèces d'oiseaux migrateurs : chevaliers gambettes, cigognes blanches,
oies, spatules, canards souchets, vanneaux huppés…
Datant du XIIIe siècle et situé sur une île terrestre, cet ancien prieuré témoigne de la forte
présence de l'Eglise dans cette région. En 1772, le prieuré est abandonné par les moines.
Au milieu des bâtiments agricoles subsistent une chapelle ainsi qu'un pan de mur de l'ancien
réfectoire.
3
La Fontaine du Gauput - vue sur l'Udène
Ce type de fontaines couvertes, dites « en forme d'obus » (XVIIIe siècle), est assez courant
dans la région. On les trouve, en général, sur les querreux. Un timbre, sorte de réservoir
qui sert d'abreuvoir ou de bac de rinçage pour le linge, est accolé à la fontaine.
Au XVe siècle l'installation appartenait au seigneur. Il fallait payer une redevance
pour l'utiliser. À la Révolution ces fours deviennent communautaires. Chaque année,
lors de la fête du pain, ils sont réactivés après un préchauffage d'une dizaine de jours
pour cuire le pain et l'amblée.
5
Le Plan d'eau du Vergeroux
Base de loisir, camping et pêche.
Dans cette région le marais a été asséché par des bagnards qui ont oeuvré à creuser
ce canal. Aujourd'hui, c'est un lieu de promenade que vous pouvez emprunter à pied,
à vélo, ou à cheval (passerelle équestre), vers Les Pierres-Closes de Saint-Laurent-de-la-Prée.
117 meters of difference in height

Start altitude :

17 m

End altitude :

19 m

Maximum altitude :

22 m

Total positive elevation :

117 m

Total negative elevation :

-115 m

Max positive elevation :

9 m

Min positive elevation :

-12 m
Leave a review about Cycling Path 6 : At The Heart Of The Islands - 19.3 Mi :
Bad

Average

Good

Very good

Excellent
There is no review about Cycling Path 6 : At The Heart Of The Islands - 19.3 Mi, be the first to leave one !