Head to the Arsenal des Mers in Rochefort to experience your own naval adventure ! Step into the shoes of an engineer, sailor, topman, captain or inventor on your extraordinary expedition !
A single ticket gets you into the Royal Rope Factory, frigate Hermione, the National Marine Museum .
The Arsenal des Mers shows another side to itself every Monday in July and August as it showcases sites, shows and activities along the Charente plus free concerts.
"The MARITIME ADVENTURE begins HERE, in Rochefort"
The Arsenal des Mers : 4 sites, 4 atmospheres
Do not miss the "Mondays of Arsenal" parties and share your memories on social networks: #Arsenaldesmers #RochefortOcean​
GOOD TO KNOW
BUY your MULTIDAY ticket at the price of the PASS DAY through the Rochefort Océan Tourist Office (except Echillais).
The reduced rates: € 16.50 for students, jobseekers and disabled are available ONLY on the spot, at the box office of the Corderie Royale and Hermione.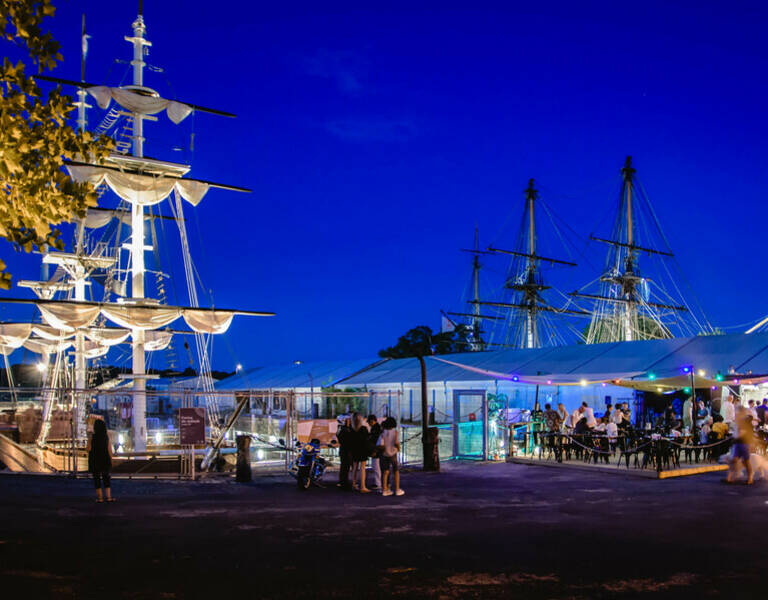 "Mondays of Arsenal" in summer 2019
From Monday, July 8 to August 26, 2019, the Mondays evenings come alive: take part in the many free shows, the various activities included in your "Arsenal PASS" and especially enjoy the highlighting of the sites of the arsenal of Rochefort. Music concerts, object stories, wanderings, cinema, escape game, "night shift" visits on the frigate Hermione ... This summer, do not look for where to go on Mondays, your evenings are already scheduled!
Practical information of Arsenal of the seas
3 PASS
Adult: 18.50 € / 25.00 € or 38,00 € according to the Pass
Children from 6 to 15 years old: € 14.50 / € 19.00 or € 28.00 depending on the pass
Free for children 6 and under ;
For more information: +33 (0) 5 46 87 01 90 or +33 (0) 5 46 82 07 07
Website: arsenaldesmers.fr
Visit map of the Arsenal of the Seas