Head to the Arsenal des Mers in Rochefort to experience your own maritime adventure ! Step into the shoes of an engineer, sailor, captain or inventor on your extraordinary expedition !
A single ticket gets you into the Corderie Royale, the National Marine Museum and the Periscope.
The Arsenal des Mers : 1 Pass, 3 sites
The Corderie Royale, the National Marine Museum and the Periscope under the same emblem : "YOUR MARITIME ADVENTURE begins HERE" !
Cradle of the frigate Hermione and the Naval Dockyard desired by Louis XIV, Rochefort invites you on an extraordinary expedition. Since July 2019, the Arsenal des Mers site has been deploying a whole new tourist offer in partnership with the remarkable sites of the dockyard.
An exceptional heritage of over 350 years, this place is a must-see in the Rochefort Ocean destination. In the form of a "park", it offers an experience not to be missed under any circumstances.
Various offers give you access to the entire site, depending on your profile and the length of stay.
Good to know about the PASS:
It's a MULTI-DAY Pass : visit the Arsenal des Mers over several days of visit (in the same year) and within the limit of one passage per ticket on the 3 sites.
An immersive maritime experience
The 3 sites offer an immersive experience in the maritime world : guided tours and workshops are available for each site.
You must visit the National Marine Museum to understand the history of the dockyard in Rochefort, the Corderie Royale reveals the secrets of ropes and marine knots and finally, the Periscope will allows you to discover and test eight techniques to see without being spotted and to communicate without being deciphered. !
On the banks of the Charente ; the Arsenal des Mers is also a nod to the river and its estuary, recalling the importance of the Navy, of the maritime world anchored in Rochefort ; this dockyard has always been intended to open itself towards the sea, travel, expeditions...

GOOD TO KNOW
BUY your ticket through the Rochefort Océan Tourist Office.
Take advantage of the reduced rate with the Privilege Card!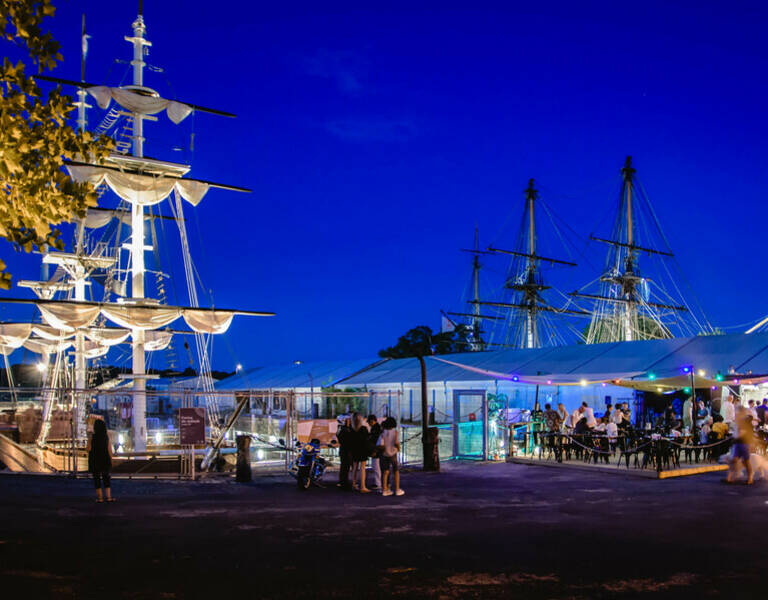 "Mondays of Arsenal" in summertime
Every Monday, in July and August , the evenings come alive in the dockyard : take part in the many free shows, the various activities included in your "Arsenal PASS". Concerts, story telling, outdoor cinema, escape game... This summer, you know where to go on Monday evenings !
NEW ! Since last year, Oceana Lumina, the nocturnal show in the Naval Dockyard, combining lighting, soundscapes, music, video and special effects ... a unique show in Nouvelle Aquitaine.